Vernons Casino Review
Vernons Casino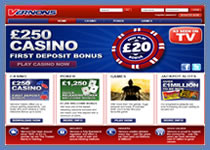 Rated
3
/5 by
Tom Thomlinson
Vernons were established in 1925, when they launched the original Football Pools. Today, the Pools still run, albeit in an online form, and Vernons have expanded into online gaming and casinos). Vernons casino are proud to offer a secure, high tech gaming system, which has made millions of people millionaires. However the most heart-warming feature of Vernons is its charitable donations – with them having donated over £1 billion throughout their lifetime to arts and sporting charities.
Vernons Casino Navigation
When landing on the Vernons Casino homepage, the dominant theme throughout are red, white and navy blue and casino chips of these colours appear in the homepage banners and in the background of the website itself. Links to Poker and Games sections can be found in on the tabs on the top, again, running with the theme of red, white and blue. This theme looks smart and tidy, even if the Vernons logo itself looks a little dated.
Navigation is easy on a surprisingly small site, yet the site contains all the usual suspects in terms of games, casino and more. The sub header tabs link to full details regarding their Promotions (more on those bonuses later), Loyalty schemes and Help Guides, plus there is a handy Getting Started guide which prompts you to download their game playing software. Clicking on the Jackpot tab will take you to a page with quick links to progressive games, with running real time jackpots.
There are links to the most popular games on the homepage, and graphics are simple and good quality. Freeplay is available both in the software and in-browser play, so you can have a good play around before depositing any money.
A nice feature too is the ability to minimise the Site Map to the bottom of the homepage which lists all the games, this just helps keep the page uncluttered, plus will help it all fit on your PC screen.
Vernons Casino Games
Gameplay on the Vernons site is truly impressive. The only niggle is that each game has to download even after you have downloaded the software, so depending on your connection there could be a wait for each game. However, if you wait, you will be in for a treat, as this Playtech-powered platform is glossy, easy to navigate (thanks to the separate categories for Blackjack, Roulette or Other) and easy to play on. There is a good selection of over 100 games to choose from, and although it isn't the biggest selection, the variety of options is wide, plus there is a good choice for Freeplay options to test the waters.
Vernons are big on fairness, quality and online safety, statements which are echoed throughout the site, so by playing on this site you do feel protected, and the site has a great transparency. Their customer care policy goes all the way to the deposits; with Vernons offering a totally free £20 freeplay bonus, which can be claimed even with no initial deposit! Once you have deposited your hard earned cash, Vernons will match your deposit to up to £250, plus offer an impressive array of ongoing Promotions and Loyalty bonuses. Examples of these include prize giveaways, Second Deposit Bonuses and High Roller points, to name but a few.
Play Support and Payment Options
Vernons take their position very seriously, and offer a well laid out and informative FAQ and help section. Statistic fans will like the Fair Payouts page, which lists the RTP (Return to Player) percentages for each game, and newcomers will like the Game Rules section, which contains easy to understand advice on placing that first bet.
To add deposits, you can use a credit or debit card, plus Neteller or Moneybookers, but further options such as Paypal are a little limited at the moment.
Being the self-styled "Trusted Name in Gaming", Vernons are focused on providing a quality product to their gaming customers, and provide a plethora of help and assistance to their players. A substantial FAQ section is supported by 24/7 help and guidance from their Customer Support via telephone, fax or email. There is also an Online Chat widget too for extra support.
Conclusion
Vernons Casino will appeal to those who recognise the name from their gaming past, for example, from football pools, and like their open and trustworthy attitude to gaming. The website is simple, easy to use and not too overwhelming, so may appeal to the new gamer too, or fans of classic casino games such as Roulette or Blackjack.
---