Ladbrokes Casino Review
William Hill Casino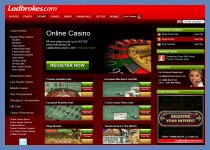 Rated
3.5
/5 by
Tony Skerret
Ladbrokes started off life back in 1886, when its founders, Messrs Schwind and Pendleton acted as commissioning agents for horses trained at Ladbroke Hall in Worcestershire. Today, it is a global leader in betting and gaming with revenue of £980.3 million (Ladbrokes PLC) and employing over 16,000 staff worldwide. And, as you would expect, the Ladbrokes casino is great to play.
Ladbrokes Casino Navigation
The traditional red and white Ladbrokes logo and colour scheme runs through the whole online presence of Ladbrokes.com, from the Sports, Lotto and Bingo pages, but it is on the Casino pages that the red and white dominates.
The red however, is a dark shade, more like rich claret than poppy red throughout which means the colour is not too bright nor the webpage too garish despite its block of colour. The sliding images on the homepage are comprised of good quality, high resolution photographs, simple graphics and crisp lettering giving a professional appearance. Tabs across the top are grey on white, and direct the gamer with ease to other parts of the website.
Further down, the homepage links are subtle and links to online games are few; Ladbrokes have credited their clients with intelligence that they will find the game they wish to play, without feeling the need to wave all their games under their noses. It has a very sophisticated feel, and feels adult without losing the excitement of the games.
There are links to the current jackpot and latest winners in a chalkboard style widget with easy links to play the winner's games. There is also, across the screen, widgets to link the user to the Ladbrokes Twitter, Facebook and YouTube accounts, an increasingly popular way of gamers staying in the loop with regards gameplay, jackpots and news and events.
Ladbrokes Casino Games
As with many large scale online casinos, you have a choice to play in web browser or to download the software. Playing in the browser gives you access to about 140 games, but the download will give you a whopping 540. Game play quality of course, is just as professional and crisp as the Ladbrokes site itself; downloads are fast and set up easy. Plus, games are constantly being added, both on Instant Play and on the Download Casino, so even the most jaded gameplayer is sure to find a new challenge. Of course, there is also a mobile version of the Casino too, so you can continue gameplay when away from your desk too.
Some gamers will like that the navigation of this site and game play is a little more detailed than on other sites; on Ladbrokes casino gone are the huge shiny, flashy buttons telling the user where every single function is. Instead, you have to actually look through the tabs to find your required game, and search for the correct download function. This has clearly been done to avoid cluttering up the site with unnecessary widgets, and definitely makes a marked difference to the usability and simplicity of the site.
Before starting gameplay and depositing your cash, take a while to familiarise yourself with the promotions and bonus scheme, to ensure you reap maximum rewards. Ladbrokes casino offers a generous Welcome Bonus of 100% your deposit (up to a maximum of a huge £500) plus ongoing loyalty rewards, such as mystery bonuses, Midweek Cash Dash and also a Fan Friday, which offers cash prizes to their Facebook fans. Ladbrokes are clearly working to keep their gamers happy, and as well as providing excellent bonuses are also constantly updating games and providing better online experiences.
Play Support and Payment Options
Like all large online casinos, making deposits is fast and simple, and they accept a large variety of payment methods, including credit and debit card, Paypal, money transfer, Neteller and Moneybookers. Should you require any help with deposits, withdrawing money or gameplay, there is an incredibly comprehensive FAQ section, which will answer any question you have on betting full stop.
Should you still require assistance however, of course there is a 24/7 contact system. You can use email, telephone (which has specific helplines for certain aspects of their online offerings, so check you are dialling the relevant number) or even snail mail. There is not at present a Live Chat help line, but the Help section is so jam packed with FAQs and data that it is highly unlikely you will not find the answer to your questions there.
Conclusion
The Ladbrokes online casino is smart, sleek and has excellent playability, albeit aimed slightly at the more experienced user. With one of the widest choice of games too, you could do a lot worse than depositing your allocated gaming cash into Ladbrokes and trying out their grown up gaming experience.

---