Victor Chandler Casino Review
Victor Chandler Casino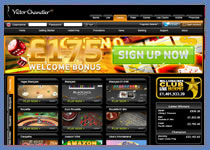 Rated
5
/5 by
Tom Thomlinson
Bet Victor, or VC, or Victor Chandler casino, as it has also been known, comprises of an online Casino plus Sports, Poker, Games and Mobile site. Established in 1946 by the current Victor Chandler's grandfather, the company began in racehorse and sports betting, and was the first company to move to Gibraltar and offer their customers' tax free betting in 1999. Victor Chandler is the self-styled "Gentleman Bookmaker", a typical English gent with a reputation as a charming and modest man, a sentiment which echoes through Bet Victors' recent rebrand.
Victor Chandler Casino Navigation
Landing on the Victor Chandler casino homepage, you are greeted by a sophisticated black and gold theme, which is consistent throughout. Games are easy to find and displayed in an attractive format, but the navigation tabs could be better defined, as they appear as if somewhat of an afterthought in a mismatched font. Recent winners and current jackpots are displayed along the right hand side, and clicking on each winner will automatically take you to play the game, which is a neat little feature. The Cold and Hot slots are also a fun additional; showing the actual RTP (return to player) percentages, which helps give the Casino a financial transparency which is refreshing to see.
Games are divided up for ease of navigation too and consist of a Roulette, Blackjack, Video Slots, Table Games and Arcade tab, as well as a handy Top 12 should you want to try something new. The icon links to the games are uniform too, comprising of the same colours, fonts and layouts, making a potentially cluttered site very easy on the eye.
Victor Chandler Casino Games
Whilst there is only an Instant Play option (not a software download, like some competitors), most have demo games which do not require a player to sign up, which is great for the newcomer looking to test. The quality varies from game to game; some are video game quality, others slightly older fashioned.
Game choice is abundant, and the Roulette selections especially good. The Victor Chandler Casino houses around 170 games, so there is a plethora of choice. It is clear from the consistent design and neat features (such as the Financials page, which allows bets based on the FTSE and DOW Jones markets) that the "English gent" market is still very much where Victor Chandler are placing themselves. This is also echoed in game choice, with dominance of Blackjack, slots and Roulette games, and less emphasis on table games, unlike some other sites.
In terms of game play, loading is quick and no complex software is required. Some games are available for mobile play, but as of yet these are in the minority. Quick links are available to all the Casino games to the bottom of each Casino page, which isn't technically necessary as the layout of the site and navigation makes you never more than a couple of clicks from the games menus, but regardless it's a useful addition for the less tech savvy.
Victor Chandler also offers a Live Casino option, which offers gamers the opportunity to play in a "real" game with real (attractive, female) dealers. The subtle black and gold theme continues throughout this section, which is only available to fully paid up members, and its clever styling gives it a "gentleman's club" style of appearance.
The site does offer a welcome bonus, which is currently up to £175, but is reliant on the gamer making a serious of reasonably high deposits. Again, their target audience is clear from this; the wealthy, middle class gent for whom they can cater perfectly. In terms of ongoing promotions, there is also a Member Bonus, Game of the Week and a Beat Victor play, all offering members of the exclusive Victor Chandler casino club the ideal combination of value and quality play.
Player Support and Payments
There is a decently sized FAQ and Help section on the Victor Chandler casino site. Interestingly, this is not on the main webpage itself, but by clicking on the Support tab, which then takes you to a plain internal page. This then has all the Q and A's you may require, plus details of deposits and withdrawals. Payments can be made via all the usual methods, including credit and debit card, BACS, Paypal, Skrill, Webmoney and telegraphic transfer, so it's very easy to top up and withdraw.
Help is provided 24/7 via telephone (UK, Ireland or Gibraltar) or email, and there is a Live Chat function too.
Conclusion
The Victor Chandler online Casino holds a comfortable niche market, and provides a slightly more specialised and unique experience compared to some other online casinos, and providing your gaming needs match these, you will never need to go elsewhere.
---