32Red Casino Review
32Red Casino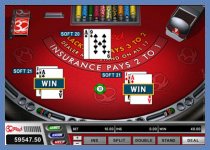 Rated
3.5
/5 by
Sally Barista
Established way back in 2002, 32Red have a large portfolio of online gaming sites, including the 32red Casino, Poker, Bingo, plus a 32Red Mobile phone site. Their online Casino offering is an award winning site, winning three awards including Best Global Casino at the 2011 Casinomeister Awards, and so expectations of the site is immediately high.
32red Casino Navigation
As you would probably guess from the name, 32Red likes, well, red. The homepage is covered with a blood red blanket, and the vast majority of the tabs, banners and even text are slightly different shades of red. This makes it pretty hard on the eye, to be honest – the shades conflict with each other, and after just a few minutes of looking at the homepage, you can't wait to download the free software to start playing games so you can get away from that rubicund home page.
The style is also lacking – the graphics and fonts are old fashioned and mismatched, and the body text so obviously web optimised it reads badly. Navigation is difficult; the site is busy and chaotic, and the tabs too abundant. Screen images move too fast, which adds to the confusion, and all the myriad of symbols, trademarks, links and text boxes send your head whirling.
It's fortunate that they have a free download option alongside an instant casino in a loud yellow gold tab, to take you off that homepage as soon as possible. Unfortunately, there is no visual let up once you are all logged into start your gaming session. There is no way you could play this game quietly at work. The dominant red theme continues to leap off your screen, and would be visible way across an office.
32Red Casino Games
Starting a game is no better. After choosing your game and clicking Play, it finally loads after a lengthy Loading screen. Game visuals are disappointing – graphics are reminiscent of a badly pixelated 2D Sega Master System console, and don't hold a candle to some of the newer online casino sites.
However, once you start playing, the games are engaging and pretty easy to use, but if you struggle with small text and fonts you may find navigation difficult.
However, game choice on 32Red is unbeatable. With 350 instant play games, or a whopping 450 if you download the software, it is clear 32Red have chosen quantity over quality. But with this many games to choose from, this won't bother some gamers, who can test out a new game each day of the year.
Incentives are also sadly lacking when compared with other similar online casinos. A current welcome bonus on offer is for up to £160 (£32 for every £10 deposited) which is great for the smaller stake gamer but quite limiting for the high roller. Their ongoing promotions tend to consist of freeroll options and bonus wheel spins too, rather than a deposit match. They do however, have their own loyalty points system, called Ruby Tuesday, which – as you may have guessed by the name – is only available on a Tuesday, a bizarre choice in our 24/7 society.
Play Support and Payment Options
32Red do score high on their customer service and support options, however. 24/7 support can be provided via Live Chat, email, phone, Skype or even snail mail. The FAQ section is informative and abundant. Also, you can access 32Red's website in 13 languages and deposit using four different currencies, so wherever you are in the world you can maintain your gaming habits.
As you may expect for a multi lingual casino, payment methods are abundant and cover all bases. Debit and credit cards, Paypal, Skrill, Neteller and even good old fashioned wire transfer are all available ways to both deposit and withdraw money.
Conclusion
32Red will appeal to the gamer who loves variety (and red). If you want to play a different game every day, you will love this site. If however, you opt for style and performance in your games, this isn't the site for you.
32Red needs an image overall. Despite being the winner of numerous awards, the navigation for the game player is confusing and difficult, and the graphics straight out of 2002 (presumably, when the site was last updated). It does offer a variety of games, but falls flat on quality. The dominant inflamed red theme also is headache inducing, and instead of being on a "Mission to Thrill", instead it may just make you ill.
---